In today's world, where environmental issues are becoming more prominent, it has become vital to find alternatives to plastic and unsustainable products. One such alternative that is gaining popularity is biodegradable plates. These plates offer a stylish and unique solution for events while also being environmentally friendly.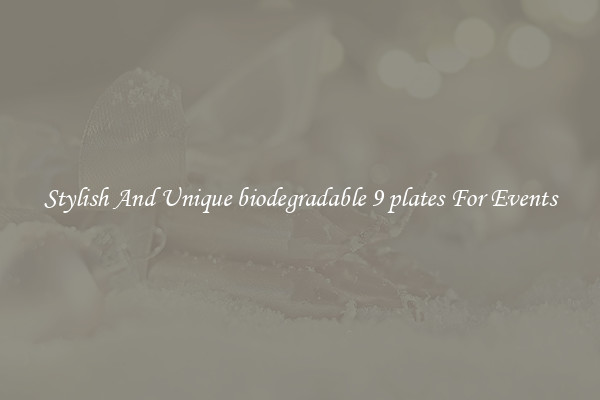 Biodegradable plates are made from natural materials such as sugarcane, cornstarch, bamboo, and fallen palm leaves. These materials are easily renewable, making them a sustainable choice. Unlike plastic plates that take hundreds of years to decompose, biodegradable plates break down naturally within a few months or even weeks. This reduces the burden on landfills and helps protect the environment.
What sets biodegradable plates apart from traditional plastic plates is their aesthetic appeal. These plates come in various shapes, designs, and sizes, making them suitable for any event. Whether it is a wedding, birthday party, or corporate gathering, you can find biodegradable plates that match the theme and add a touch of elegance. From square plates to oval ones, and from round plates to compartmentalized ones, the options are endless.
Not only are biodegradable plates visually appealing, but they are also sturdy and versatile. These plates can withstand hot and cold temperatures, making them suitable for any type of food. You can serve both hot and cold dishes without worrying about the plate losing its shape or integrity. Biodegradable plates are also leak-proof, ensuring that sauces and dressings won't spill and make a mess.
Apart from being environmentally friendly and stylish, biodegradable plates are also easy to dispose of. After an event, these plates can either be composted or thrown away with regular waste. Since they are made from organic materials, they decompose quickly, returning to the earth without leaving behind any harmful residues. This makes them a responsible choice for those who want to minimize their carbon footprint.
It is important to note that not all biodegradable plates are created equal. Some manufacturers may claim that their plates are biodegradable, but they may still contain harmful additives. When purchasing biodegradable plates, it is advisable to look for certifications such as ASTM D6400 or BPI (Biodegradable Products Institute). These certifications ensure that the plates are genuinely biodegradable and meet the necessary environmental standards.
In conclusion, biodegradable plates offer a stylish and unique alternative to traditional plastic plates for events. They are not only visually appealing but also environmentally friendly. With their various shapes, designs, and sizes, they can complement any event theme. Moreover, biodegradable plates are sturdy, leak-proof, and can withstand hot and cold temperatures. After use, they can be easily disposed of without leaving a harmful impact on the environment. By choosing biodegradable plates, we can contribute to the conservation of our planet while still enjoying stylish and functional tableware.